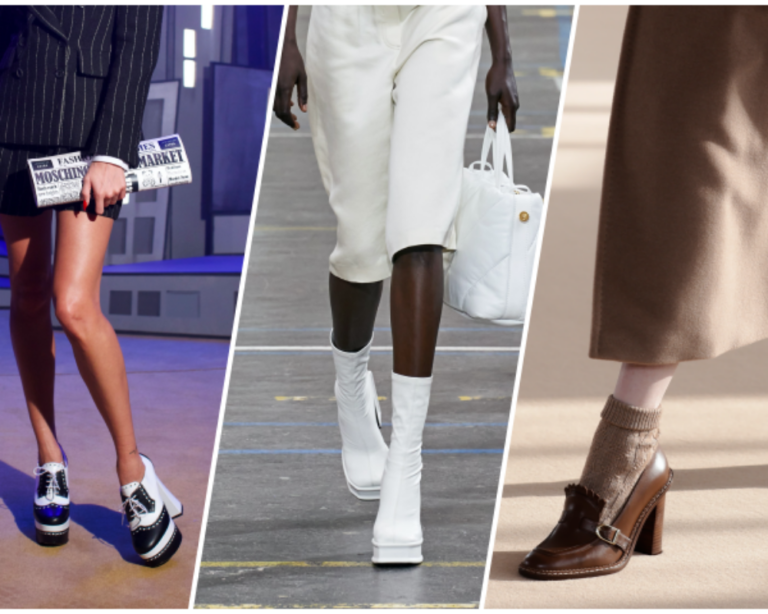 Different designs to familiar models! Discover the highlights of the 2021-22 Fall/Winter shoe trends that meet the season with innovations that add to the classics that make a great comeback.
There's a sound we love from the 2021-22 Fall/Winter trends, do you hear? The sound of heels! Sneakers that have taken over the runways and the streets for the past few years are making more room for heels this season. While some designs take on a brand new air, others breathe new life into classic styles such as Oxford and Loafer, which we are already familiar with. If you want to complete your wardrobe with the most trendy shoe models this autumn-winter season, do not go shopping without taking a look at the prominent shoe trends of the season!
Fur Boots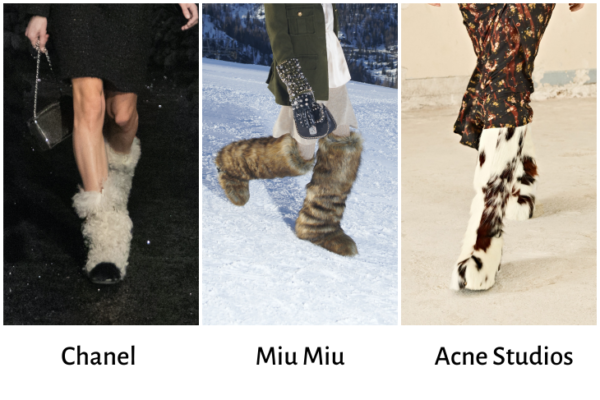 Reminiscent of UGG boots at first glance, this shoe style resurfaces furry and gigantic looks. This style, which first attracted attention at the Celine fashion show, then at the Chanel and Miu Miu fashion shows, became popular in a short time. But there is still only one question in mind: Will furry boots be the right match for comfort and playful elegance, or will people ignore this style unless they travel to colder climates?
Metallic Boots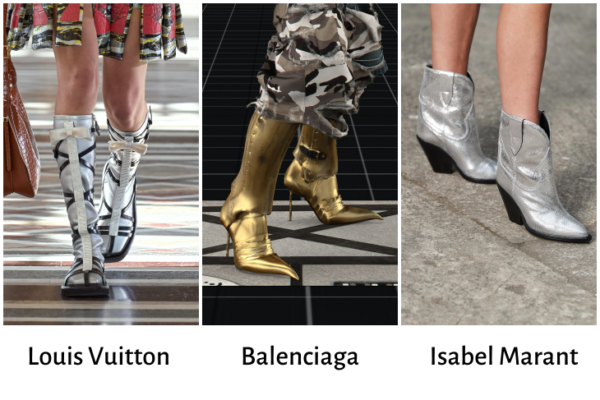 Do you remember the boots worn by men forging armor in southern France during the medieval period? This season's metallic boots are almost inspired by the boots of men who forged armor in the Middle Ages! However, you can browse the collections of Dries Van Noten, Jil Sander, Peter Do and Victoria Beckham to wear your silver boots on the dance floor, not on the battlefield.
Square Boots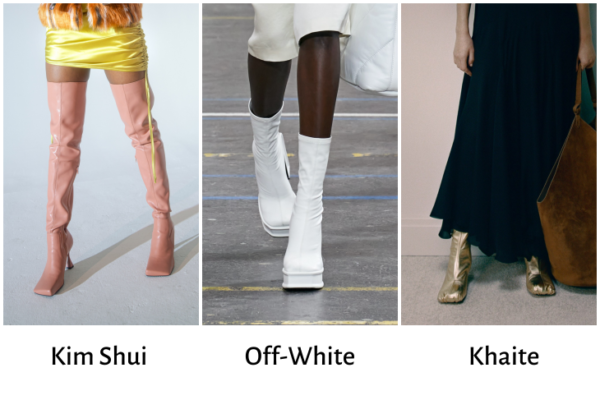 The classic 60s style seems to get the attention it deserves this season. Square boots are a true expression of power, taking on many different styles for fall 2021. Another detail that draws attention is that not only the toe part but also the heels are square in the design of the shoes. In short, we will see the square details in different designs this season. For example, Kim Shui adapted this style to an above-the-knee, calf-high boot, while she stood out on the podium with an Off-White platform heeled white boot.
This Article Might Interest You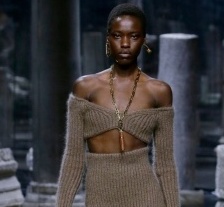 Socks Boots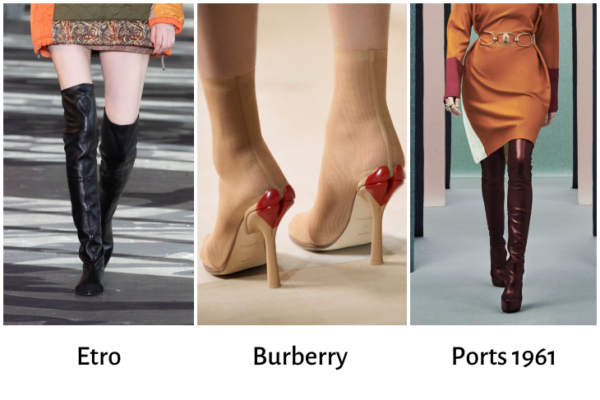 While tight clothes lose their popularity day by day and give way to voluminous and eye-catching designs, things are a little different in shoe trends. One of the prominent styles in the shoe trends of the 2021 Fall/Winter season are the tight-fitting sock boots and sock boots. Prada, Peter Do, Schiaparelli, Marine Serre, Etro and Burberry are among those who highlighted this trend during Paris Fashion Week.
Slouchy Boots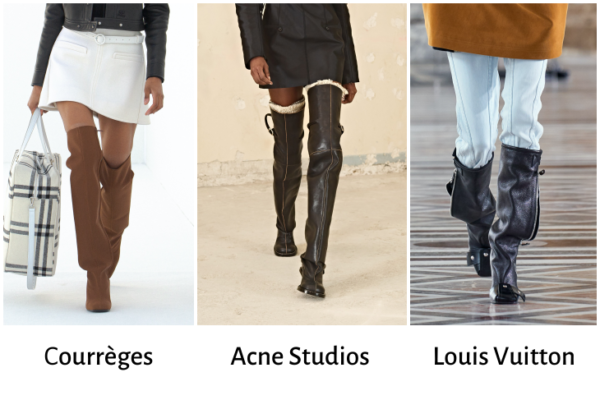 Over-the-knee boots may have been one of the most popular wardrobe items a few years ago, but in 2021 they are being replaced by Slouchy boots, the signature of effortless elegance! In fact, we are familiar with them thanks to the Jean fashion. Now is the time to step outside this limit and adapt the slouchy style to any style. Because these boots really look great with everything! You can combine these boots with trench coats, skirts, jeans, dresses and any other item you can think of. If you want inspiration from the podium, you can prioritize Gabriela Hearst, Khaite, Elisabetta Franchi, Courreges and Louis Vuitton.
Ballet Shoes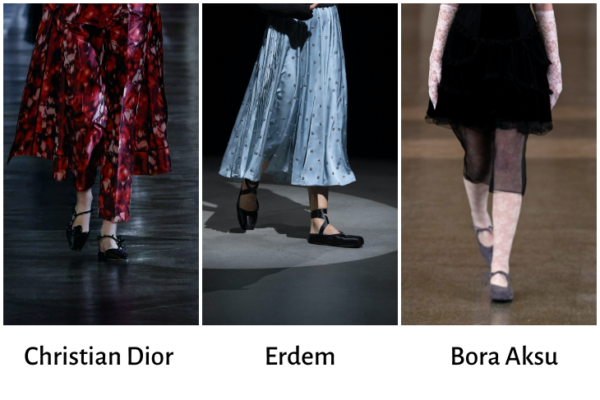 Ballet shoes, whose existence dates back to the French Revolution, are a model preferred by many style icons, from Audrey Hepburn and Brigitte Bardot to Kate Moss and Taylor Swift. Last season, the Simone Rocha shoe collection was inspired by ballet shoes and Victorian dolls. Again this season, these timeless shoes are back in Valentino's classic Rockstud design and Dior's effortless monogram designs. For those who want to create a ballerina touch in the city, the Bora Aksu, Erdem and Dior collections are on our radar.
Loafers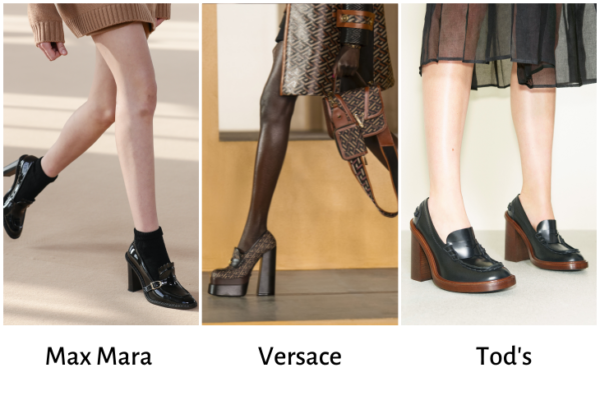 Perhaps considered by many to be a classic of men's style, this season's polished loafers are set to take the fashion world by storm. Big heels and rising platforms are at the forefront of the 2021 fall/winter shoe trend. Loafer designs, of course, have had their share of this popularity and high-heeled Loafer designs have started to come to the fore in the collections of fashion houses. Tod's, Versace, Max Mara and Loewe are at the top among those who carry the Loafer style to high heels.
Seasonal Slippers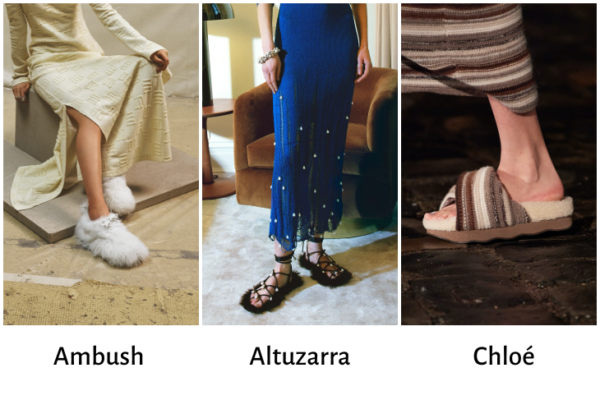 Stilettos, sculptural boots, tight-fitting boots and classic innovations may be popular, but the winner is always clear; comfort! When slippers became the best friend of our feet after being locked in the house for so long, it seems that the designers did not dare to separate us from them! While Coach made this trend more suitable for the street, Chloe brought plush comfort to slippers.
Oxford Shoes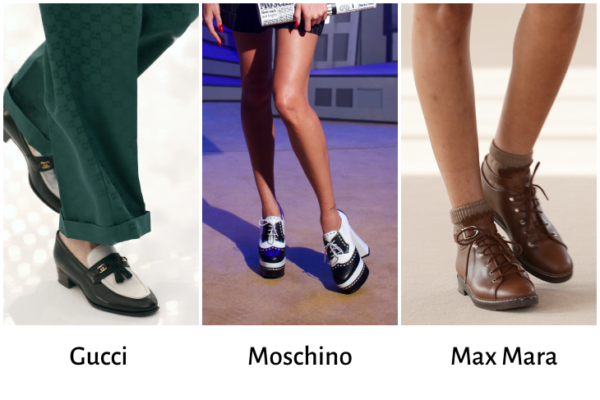 Oxford is back! Favorite of our grandfathers, indispensable Oxfords are here as one of the popular shoe trends of 2021! Taking its name from Oxford Collage in England, this classy shoe adds a glamorous atmosphere to those who prefer it. While classical styles stand out in Armani, many designers preferred to adapt the Oxford style to designs with heels and platforms. Guccide, forever remembered as the brand of cool schoolgirls, paired this silhouette with chunky heels and socks. Here's a real college girl!